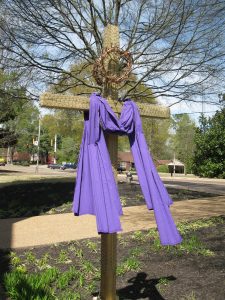 Dear GPC Family and Friends,
As our calendars turn to April, we are eager to remember and celebrate the most important days for Christians: Good Friday and Easter. These two days are so tightly-connected, yet their meanings and moods are so different.
Good Friday is the day we remember with tears in our eyes for the cruelty and violence that Jesus suffered. How could someone so innocent suffer so intensely for the sake of others? It does not seem right that an innocent person should suffer, especially when someone else should instead be held accountable. Jesus suffered immense cruelty at the hands of His tormentors. They mocked, spit upon, and whipped Him. Worst of all, they nailed His flesh and bones to a wooden cross with the specific intention of maximizing His pain and anguish. Good Friday is a dark day of suffering, and we tremble at the thought of the vicious violence that Jesus experienced.
Good Friday humbles us because we know that what Jesus suffered is intimately related to our actions and to justice. God is just, and human beings' decisions and behaviors matter in a moral light. We live in a world created by a just, loving, and righteous God. Sinful violations of God's standards for right and good living cannot be ignored by God, and justice demands accountability. What could God do to ensure that divine justice and accountability for sin are realized? Who should suffer the God-forsakenness of the agony of separation from God? We deserve God's condemnation for sin, and we deserve to be removed from God's goodness and presence because of our choices.
Good Friday and the cross are God's way of swallowing up into His own life what we would otherwise have to face in ours: alienation and separation from God. It is hard to understand the meaning of the crucifixion because there is no comparable event like it in history, but on the cross in the person of Jesus, God experienced abandonment, condemnation, and punishment for sin. It was violent and horrible, and through His personal self-sacrifice, God liberates us from accountability for our choices that are wrong. It is the act of God's grace that defines the very nature of divine love and grace.
Easter is the triumphant return of Jesus out of death's claw and hopelessness. The cross ushered Jesus into death's domain and power, which is akin to a spiritual black hole. In the Bible, death is described as something much more than the cessation of breath and heartbeat. Death is a force that destroys. Death is tied to sin and rebellion from God. Death is a spiritual power that swallows people and never releases them. Death and its darkness are the final consequence for people who turn away from God.
Easter is light and glory because Jesus has returned from the realm of darkness and death. God did for Jesus what we assumed no one could ever do: bring someone back from death and release Him from this spiritual black hole. God proves His power over death and its destruction. God blesses Jesus with a life beyond life as we know it, and the resurrection is God's validation of life and love beyond sin and punishment. Easter is such a happy day because God demonstrates His love for humanity by releasing Jesus from death's grip, and He offers that same resurrection into new life after death for all of us.
All of these powers are at work within us when we have faith in God through Christ. The Apostle Paul tells us that even though death is at work with us, we have been crucified with Christ. Our "old selves" have been crucified with Christ, and we have died to the consequences of sin in us. We still sin and desire things that are deadly, but we will not be held accountable for them in the same way that we would have before faith in Christ. Faith in Christ is trust in our atonement for sin through His death on the cross.
The power of Resurrection is especially alive in us as we follow God through Christ. Again, the New Testament promises that we are made alive in Christ, and we are assured of our own resurrection to life beyond death. It is the ultimate joy in a world where death is at work. It is our joy to know that nothing can separate us from God's love in Jesus Christ, as we hear so amazingly in Romans 8:38-39: For I am convinced that neither death, nor life, nor angels, nor rulers, nor things present, nor things to come, nor powers, nor height, nor depth, nor anything else in all creation, will be able to separate us from the love of God in Christ Jesus our Lord.
The love of God in Christ is on display the most during Good Friday and Easter. May we, as a church family, worship and celebrate these gifts of grace during April 2019.
Grace, mercy, and peace,
Will