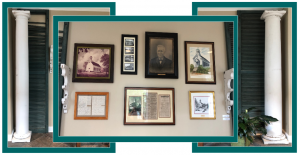 It's true. Last Sunday, Pastor Will (@WillGrayJones) began with Hebrews 11 and talked about some of the pillars of faith listed: Abel, Noah, Abraham, Sarah, Enoch, to name a few. He then said the real pillars of faith at GPC are its people.
He encourages us, like Enoch,  to walk with God our whole lives. Nothing extraordinary. Nothing heroic. Except our constant, persistent decision to walk daily with God.
Now that our new facilities are finished, we pivot and use our imagination and love and resources to tell more and more people how to walk with God and how to keep walking with God their whole lives.
To be a pillar of faith, we don't have to do something heroic or extraordinary. We just need to keep walking, keep walking in faith. Especially in a dark world. The writer of Hebrews talked about these faith figures in the past to let Christians know in the present that there's hope for the future. We can have courage for the future. Even more when we walk together.
If you missed the message, you can catch it here.