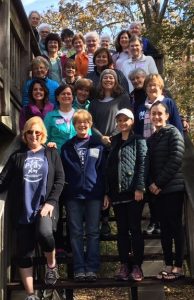 Calling all GPC women to attend the 2nd Annual GPC Women's Retreat: EAT, PRAY, PLAY, to be held November 1 and 2 at Pinecrest.
With God's loving hand guiding and blessing our efforts, the 2018 retreat was a wonderful experience for every woman who attended and the response was, "Let's do it again!"
The theme of this year's retreat is Wise and Worthy Women of the Word. Through storytelling, we will listen and learn from the narratives of biblical women, as well as from our own unique life journeys. And, then…we'll discover our roles in the overarching story that God is telling.
If that's not enough to convince you to sign up…here are a few more reasons to R-E-T-R-E-A-T
R: Relaxing Respite
For a day and a half, there are no errands, laundry, meals to prepare, or football games to watch!
E: Exceptional Eating
As previously mentioned – you are OFF kitchen duty BUT, you'll eat like a queen at Pinecrest! Besides the yummy meals, we'll have tasty snacks, s'more making and Pinecrest's legendary cinnamon rolls.
T: Terrific Teaching
Pastor Su
sie will lead our study of the notable Bible women and how their stories inform our own personal faith stories.
R: Renew & Reinvigorate
There's nothing like a stroll in Pinecrest's natural splendor to provide a rural refresh!
E: Enjoy Each Other
Before dinner Friday night, you'll meet your retreat prayer partner. Although the pairing is random, last year it was clear that there was some divine selection at work! What a special experience to make a new friend or strengthen existing bonds as we fellowship together.
A: Assorted Activities
Whether you are "yearning to yoga" or "ready to rock" (in a chair, that is), there's an activity to suit every speed.
T: Tremendous Together
Where two or three are gathered…amazing things can happen!
EAT, PRAY, PLAY is a gathering you won't want to miss.
Planning Team members: Elaine Cates, Ann Harbor, Wendy Holmes, Melinda Russell, Lacey Schepman, and Pastor Susie Wiggins
Registration is Now Open Online
You can find out more info and register to attend here.