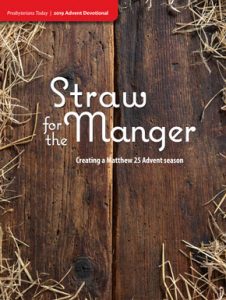 During this holy season of Advent, we are invited to pray and contemplate as we remember Jesus' command epitomized by Matthew 25:31–46 to love one another and care for the "least of these" — our brothers and sisters who are hungry, thirsty, alone, and otherwise burdened or suffering.
This year's devotional from Presbyterians Today is very special. The Rev. Sherry Blackman, a Presbyterian pastor, chaplain, and award-winning writer and poet, challenges us to fill our days of Advent with simple, practical, and loving deeds that help our neighbors — calling each act of kindness a "piece of straw" for the manger to make a soft bed for the Christ child when He arrives on Christmas.
Each day of the devotional features a Scripture excerpt, meditation, and prayer to deepen the Advent experience. Each week also features a space for journaling — perhaps a place where you can jot down your good deeds for the coming week.
Copies are available in the church office, in the narthex, in the AC lobby, and in the Welcome Center. If you'd like an electronic copy in pdf form, click here.