Embracing the Special Needs Community
The PEACE Program of GPC is open to special needs individuals of all ages. Families may utilize our self-contained settings or choose from a selection of inclusive options. The goal is for all students to learn:
They are made in the image of God
God loves them and wants a relationship with them
They are a valued part of the GPC family
Extended care for individuals of all ages with exceptional needs is available during the worship hour as an extension of our special needs ministry.  Caring volunteers will attend to your student in a safe and appropriate environment while  families participate in corporate worship.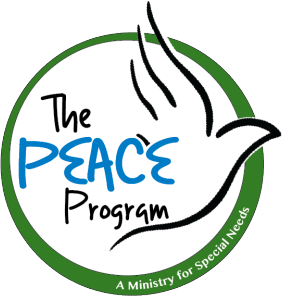 the Place where Exceptional Adults and Children are Embraced
VOLUNTEERS
As the PEACE Program grows, so grows the need for additional volunteers. There are volunteer opportunities waiting just for YOU! A background in special needs is not required; the PEACE Program will equip you with the tools you need to serve.
The SNMT (Special Needs Ministry Team) is accepting applications for Buddy Volunteers. Buddies serve in 2 ways:
Extra hands in the self-contained classroom
Assistant in the typical classroom environment
Click on any of the boxes below to learn more about each program.