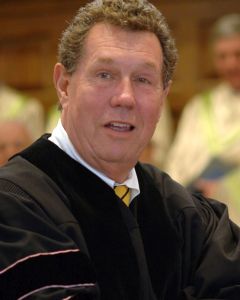 Jerold Teachey joined the staff of Germantown Presbyterian Church as Director of Music in 1993. His extensive background in church music, youth choirs and professional vocal performance began in the churches where his father was a minister with the Church of God.
Jerold directed congregational singing, learned the old hymns, and sang gospel music along with his mother and sister as part of the "Teachey Trio."
After high school, Jerold earned Bachelor and Master's degrees from East CarolinaState University, and a Doctorate from Florida State University, all in vocal performance. He was a voice instructor at Lee College, Cleveland, Tennessee and Associate Professor at the University of Tennessee, Knoxville. In addition to academic teaching, Jerold had a parallel career in church music, and enjoyed developing dynamic adult and youth choirs for several churches.
He has sung opera and musical theatre in the U.S. and Europe. During a sabbatical he studied at the renowned conservatory Mozarteum in Salzburg, Austria. Upon returning to the States, he resumed teaching at UT, and actively pursued his passion for choral church music. His wife Jan is a physician with the UT Medical Group specializing in Otolaryngology. Jerold works with her as Director of Voice Care Associates, a unique concept of medical care and voice management for the professional voice. He is an Associate Professor in the Department of Otolaryngology at UT Memphis College of Medicine.
Deeply committed to the belief that music is a transforming power during worship, Jerold has enriched the services at GPC with special soloists, brass and woodwind ensembles, children and adult bell choirs, and singing voices of all ages.
Jerold and Jan love and celebrate their daughters Quin, Lia and Jenna.
---
To contact Jerold Teachey, Director of Music Ministry
please use the form below.
Or call: 901-754-5195