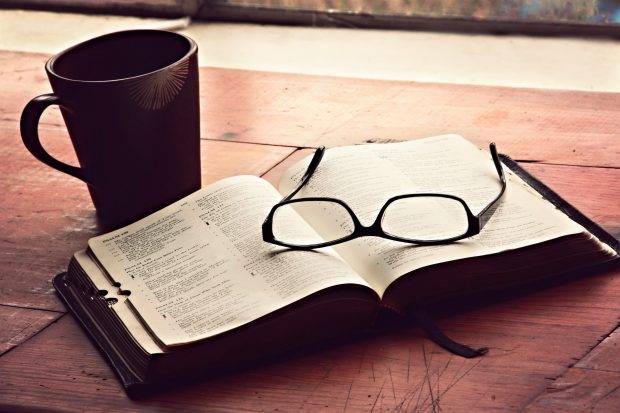 from the Ann Voskamp blog, A Holy Experience – click here to read the entire post and find study/prayer resources.
…God is a Communicative Being who never stops communicating Truth to a world that is in a brutal daily communication war to decide truth. 
There is nothing like knowing that the Communicative God wants to communicate with you.
God's Word to you is never a passing word or line — God's Word is your very lifeline. In tumultuous times, there is only one voice that can calm seas. 
When the sun comes to the window every morning, it comes on fire with a message it can't contain:
The One who is the Word wants to have a word with you.
Apathy for God's Word leads to atrophy of a soul. 
How I Fall Deeper in Love with the Communicative God 
1. Pine after the heart of God: 
Want the One who wants you more than anyone else. I have found this true, especially at the bottom of all kinds of unspoken broken: God is never an obligation, but always worthy of anticipation. Time with God isn't an action on some to-do list but an act of Love with Someone….
2. Peer into the heart of God:
You fall in love by peering into the eyes of someone.
When you look into God's Word, you are looking God in the eye. Peer into the Word like you are looking long into the eyes of God, like you are longing for God.
Read His Word with intentionality instead of randomly: begin to read through the Gospels, work your way through the Epistles, or read one book of Scripture five times through. Highlight themes, repeating words, phrases that connect your heart to His. Trace His face by tracing lines, underlining lines. Study His face, His heart, memorize His eyes.
Open a commentary like this one, if you choose. Grasp God. Simply spend time reading and re-read and re-read the passage from the living Spirit Book like you are reading the eyes of God, listening for God to speak….
3. Personalize the heart of God:
When you personalize God's Word, you see it's a Word personally for you.
In the margins of the journaling Bible, or in a separate journal, personalize the Scripture reading from the morning. Write the verses, the text back to yourself, using your name, writing from the perspective and heart of God.
Listen to the movement of the Spirit through His Word. Listen for the heartbeat of God for you through the Word. 
"Write the Scripture reading back to you like it's a love letter from God — because it is." 
The practice of personalizing Scripture is a practice of entering into His presence, the practice of tuning the heart to hear God speaking personally to you through Scripture, of dialoguing with God through His infallible, living Word.
The practice of personalizing Scripture moves reading God's Word from a cerebral, intellectual practice, to a deeply intimate practice of heart communion.
And when you personally know God's intimate heart for you — this is what ultimately changes your heart. 
4. Present your heart to God:
Presenting all of yourself to God is the gift your soul wants most.
Presenting your honest heart in lament, in worship, in prayer, in confession, in repentance, in vulnerability to God gives the soul the gift of communion with God — what every human being was made for.  
"Unless we genuinely present all of ourselves to God, we won't experience God genuinely present to us."
After pining after the heart of God, peering into the heart of God, personalizing the heart of God,  the act of fully presenting your whole heart to God through worship music, through vulnerably journaling, through honest prayer journalling, praying Scripture back to God — this transforms the present moment. 
Unless we are wholly present to God with all of ourselves — our lament, our worship, our hopes, our confessions, our heartbreak — we can't receive the present of wholeness.
The only way to intimacy is through the door of vulnerability. 
5. Participate with the heart of God:
"God's invitation is always participation in God's work."
The Triune God is a relationship of participation. Each member of the Godhead lives in fulfilling, self-giving relationship with each other, participating fully in the sacrificial life of each other.
And God's invitation to every human being is a life of participation in the God's work. Linger and listen long to the heart beat of God: 
How is God inviting you from your holy experience in His Word, in presenting prayer — to participate with Him in His holy work in the world? 
Where is He inviting you to participate in the sufferings of Christ, to participate in His redemptive work in your world, participate in ushering in shalom and the Kingdom of God around you, how is He inviting you to participate in following His narrow way especially today? 
Only conclude your time of encounter with God after counting how you will make even one degree of movement toward participating more with God.
God communicates to us that we might participate with Him.
And it's in participating in the Triune God's heart that we feel the recalibrating of our own. 
Early in the morning, first thing, there's this  turning on of my lamp and this sacred encounter with God:
Pining after the heart of God,
Peering into the heart of God,
Personalizing the heart of God,
Presenting the whole heart to God…and then
Participating in the heart of God
As this ignites a passion in the heart
for the passion of the Christ. 
"The way to counter the fury of a world burning down, is to get down on your knees and light your own heart on fire."
There is no more fulfilling way to begin the day because I can testify: Short-change time with God and its your own joy that falls short. 
Encounter God and you can count on the arms of God carrying you through.